The Dream Team
Our dental team is here for your children! Friendly, knowledgeable and professional, we are here to increase your child's comfort, alleviate their anxieties and help them get the best smile possible.
Dr. Carissa Molina
Dr. Carissa Molina grew up in Madison, WI. She graduated magna cum laude from Marquette University with an Honors Bachelor of Science in Biomedical Sciences and a minor in Spanish for the Health Professions. While attending Marquette University School of Dentistry she was awarded the National Health Service Corps Scholarship and inducted into the the Omicron Kappa Upsilon Dental Honor Society. After graduating magna cum laude from Marquette with her Doctor of Dental Surgery degree in 2013, Dr. Carissa fulfilled her National Health Service Corps obligation at a community health center in Milwaukee, WI. As a general dentist she treated patients of all ages but especially enjoyed working with children and desired to pursue specialty training. She graduated from the pediatric dental residency program at Children's Hospital Colorado in 2019. Dr. Carissa is a member of the Metro Denver Dental Society, Colorado Dental Association, American Dental Association, Colorado Academy of Pediatric Dentistry, and the American Academy of Pediatric Dentistry. She is also a board eligible candidate of the American Board of Pediatric Dentistry. Dr. Carissa enjoys spending her free time hiking, reading, cooking, and traveling.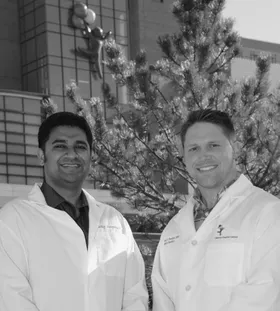 Dr. Prat Siva
Bio Coming Soon!
Dr. Landon Heckman
Dr. Heckman grew up in Birmingham, Alabama. He attended Auburn University from 2005-2009 where he graduated magna cum laude with a bachelor's degree in biomedical sciences. He then returned to Birmingham to complete dental school at the University of Alabama at Birmingham from 2010-2014. Following dental school, he and his wife relocated to Washington, D.C. where he practiced as a general dentist for two years while his wife completed her graduate school program. Once his wife completed her training, they moved to Pittsburgh, Pennsylvania where Dr. Heckman completed his two years of pediatric dental residency at Children's Hospital of Pittsburgh from 2016-2018.
Dr. Heckman's education provided comprehensive training in pediatric dentistry with a focus on patents with special health care needs, hospital dentistry, sedation/general anesthesia dentistry, and solutions to issues of access to care. He is currently a board eligible pediatric dentist and holds an active Colorado dental license.
In his free time Dr. Heckman enjoys playing tennis, guitar, and spending as much time as possible outdoors with his wife and their furry border collie Lila.
Dr. Kim Kretsch
Dr. Kretsch was born and raised in Iowa. She attended the University of Iowa where she earned a Bachelor of Science degree with a certificate in dental hygiene. She practiced dental hygiene for 6 years. Dr. Kretsch enjoyed the dental field and elected to pursue her Doctor of Dental Surgery degree. She graduated from the University of Colorado School of Dental Medicine in 1996. During her time in dental school, she found a passion for working with children. Upon graduation, she continued onto a pediatric dental residency at the Children's Hospital of Wisconsin where she earned a certificate in pediatric dentistry.
She joined her brother in his pediatric dental practice in 1998. She practiced pediatric dentistry for 18 years, including hospital dentistry. She was a managing partner in the pediatric dental practice she owned with her brother. Dr. Kretsch found she has an interest in the business operations of a dental practice and decided to pursue a Master's of Business Administration. She graduated from Regis University School of Professional Studies in 2015. Dr. Kretsch is a board-certified pediatric dentist and is a member of the American Academy of Pediatric Dentists, American Board of Pediatric Dentists as well as a member of the American Dental Association. She is active in her local dental society chapter. Dr. Kretsch is married and is the mother of 2 sons. She expresses her excitement to begin this new adventure as a partner in Colorado Dentistry for Children in Brush Colorado.
Currently, Dr. Kim has taken an administrative role with the CDFC and will be involved in virtual dentistry in the future.