It is our goal to keep your mouth healthy, your teeth fully functional, and your smile bright — and we are proud of all the services we offer to do exactly that. At the same time, we want you to understand all that modern dentistry in general has to offer you. To that end, we have assembled a first-rate dental library in which you can find a wealth of information on various dental topics, including:
Orthodontics
Adults and kids alike can benefit from the boost in self-confidence that comes from having a great-looking smile with beautifully aligned teeth. Orthodontic treatment can even improve chewing, speaking and oral hygiene in certain cases. And with today's virtually invisible orthodontic appliances, it's possible to keep your treatment a private matter… until your new smile is unveiled, of course! Read more about Orthodontics.
Pediatric Dentistry
It's never too early to get your child started on the path toward a lifetime of good oral health, and there are many services to do exactly that. Monitoring your child's dental growth and development, and preventing and intercepting dental diseases along the way, is the primary focus of pediatric dentistry. Read more about Pediatric Dentistry.
Periodontal Therapy
If you want to keep your teeth for life — a completely reasonable goal in this day and age — you need to make sure the tissues that surround them are also healthy. Should gum problems arise, you may need periodontal therapy to restore diseased tissues to health. Read more about Periodontal Therapy.
Toothpaste: It's something most people use every day, but rarely give much thought to — except, perhaps, when choosing from among the dozens of brands that line the drugstore shelf. Is there any difference between them? What's toothpaste made of… and does it really do what it promises on the box? To answer those questions, let's take a closer look inside the tube.
The soft, slightly grainy paste that you squeeze on your brush is the latest in a long line of tooth-cleaning substances whose first recorded use was around the time of the ancient Egyptians. Those early mixtures had ingredients like crushed bones, pumice and ashes — but you won't find that any more. Modern toothpastes have evolved into an effective means of cleaning teeth and preventing decay. Today, most have a similar set of active ingredients, including:
Abrasives, which help remove surface deposits and stains from teeth, and make the mechanical action of brushing more effective. They typically include gentle cleaning and polishing agents like hydrated silica or alumina, calcium carbonate or dicalcium phosphate.
Detergents, such as sodium lauryl sulfate, which produce the bubbly foam you may notice when brushing vigorously. They help to break up and dissolve substances that would normally be hard to wash away, just like they do in the laundry — but with far milder ingredients.
Fluoride, the vital tooth-protective ingredient in toothpaste. Whether it shows up as sodium fluoride, stannous fluoride or sodium monofluorophosphate (MFP), fluoride has been conclusively proven to help strengthen tooth enamel and prevent decay.
Besides their active ingredients, most toothpastes also contain preservatives, binders, and flavorings — without which they would tend to dry out, separate… or taste awful. In addition, some specialty toothpastes have additional ingredients for therapeutic purposes.
Whitening toothpastes generally contain special abrasives or enzymes designed to help remove stains on the tooth's surfaces. Whether or not they will work for you depends on why your teeth aren't white in the first place: If it's an extrinsic (surface) stain, they can be effective; however, they probably won't help with intrinsic (internal) discoloration, which may require a professional whitening treatment.
Toothpastes for sensitive teeth often include ingredients like potassium nitrate or strontium chloride, which can block sensations of pain. Teeth may become sensitive when dentin (the material within the tooth, which is normally covered by enamel, or by the gums) becomes exposed in the mouth. These ingredients can make brushing less painful, but it may take a few weeks until you really notice their effects.
What's the best way to choose a toothpaste? The main thing you should look for is the American Dental Association (ADA) Seal of Acceptance on the label. It means that the toothpaste contains fluoride — and that the manufacturer's other claims have been independently tested and verified.
But once you've chosen your favorite, keep this bit of dental wisdom in mind: It's not the brush (or the paste) that keeps your mouth healthy — it's the hand that holds it. Don't forget that regular brushing is one of the best ways to prevent tooth decay and maintain good oral hygiene.
Related Articles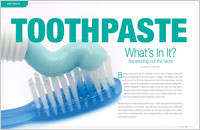 Toothpaste It's something we put in our mouths every day. Yet for those who actually take the time to read that list of ingredients, it can be hard to figure out what it all means. Dear Doctor magazine breaks it all down and reveals a great way to be sure the claims written on the label can be trusted... Read Article